How does Dulas inspire in Seville? How much can he transmit with a seductive bite to eat in the Andalusian capital?
The people from Seville who are bringing our wine closer to your senses every day, bringing our bottles to your tables, have a lot to tell. In this article they explain what they feel, even through poetry and harmonies.
All of them form a well-oiled chain of gears started by our distributor Silke and his team, formed by Domingo (el Abuelo), Jorge, Sergio and Bosco.
A million thanks is not enough, because without each of you this adventure would not be possible.
We hope you enjoy it in situ.
Miguel y Fátima.
Torres y García
Harinas 2-4
41001 Sevilla
Veiw in Google Maps
Reservations: (+34) 955 546 385
http://torresygarcia.es/
Barrel-fermented Pedro Ximénez Dules & Scallops with Veil of Pork Jowl
By pairing Dulas with our scallops we seek the common thread of two creations born separately, but designed to be together.
The harmony brought by the French oak to the touch of the grill takes us to the simplicity and richness of French cuisine. To this we add the freshness and sweetness of the Pedro Ximénez, which fights its protagonism with the strength of the truffle, and culminates with a marine aftertaste enhanced with the salinity of the Montilla soil.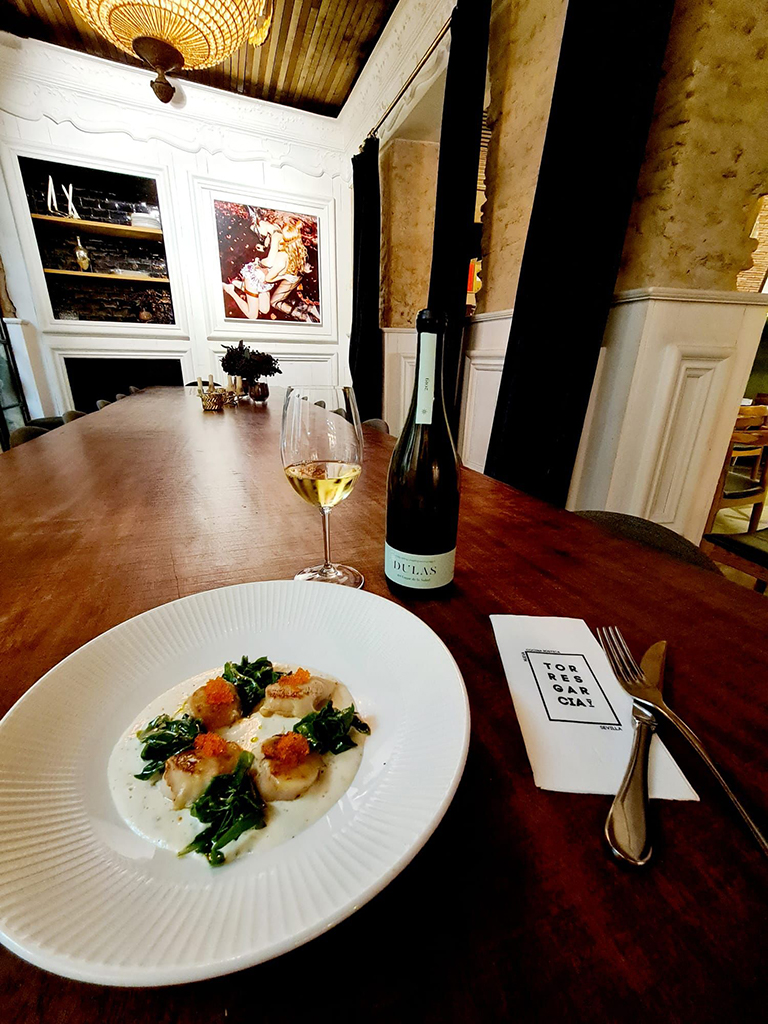 Restaurante De La O
Paseo Nuestra Señora de la O, 29
41010 Sevilla
Junto al hotel Ribera de Triana
Access from Plaza de Chapina through Callejón Gracia de Triana.View en Google Maps
Reservations: (+34) 954 339 000
delaorestaurante.com

NOTES FOR A GLASS OF FRENCH RED DULES
Beautiful color, between blue and light purple touches,
slightly ripe cherries.
Red and wild.
That's the motto, fresh and shameless laughter.
It is the live version of the rose,
trail of a journey, memories of times lived.
Free kisses and erotic writings.
Strawberries and raspberries in their purest state,
candy apples in the afternoon of medieval fairs.
It has a soft taste that,
not being coarse, has character.
It is sweet, bitter and charming
and demands to be savored again.
Richness, wisdom and generosity.
Pungent but soothing moving in your mouth
with a tingle on the palate.
Long, tasty and sometimes vain because it does not want to leave you.
Soft and delicate finish, creative, romantic.
Sometimes we think too much and feel too little.
It wants us to feel the intensity,
and thanks the earth because with it he learned to be strong.
He remembers a summer night, under a fig tree
with ripe fruit and tobacco leaves.
Step by step and minute by minute
he updates your memories of the past.
There is something in his gesture that,
in spite of being of a stout man,
is as cordial as a child's caress.
He has the enjoyment of a good conversation,
of someone who understands what he feels.
It's like the delicate sound of a melody
that makes you vibrate and brings out the angelic in you.
It is the passion of the road and the tears at the end.
Those tears that are like the strokes of some of Monet's paintings.
They are like music.
There are no endings and they start again in blocks of color.
They are tempered by time.
They are subtle, quiet flashes that keep the memory of the divine breath.
With that mantle that envelops and protects,
with those lullabies sung to lull you to sleep,
your soul is soothed like the eternal water of the Guadalquivir marshes.
In victory you deserve to drink, in defeat you need it.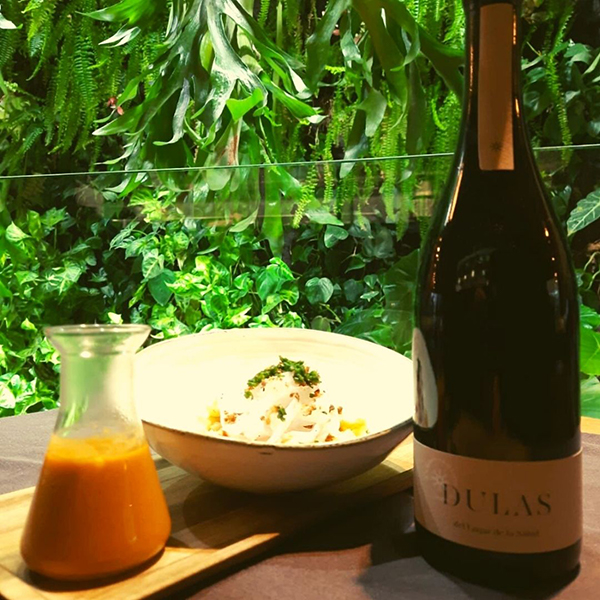 La Chalá
Plaza Puerta Real, 6
41002 Sevilla
View en Google Maps
Reservas: +34 954 90 30 91
Lachalarestaurante.es
Dulas Pedro Ximénez fermented in barrel & Morcilla Ravioli
Sometimes you feed on mortal memories,
and we cry
transient tears,
but
your beautiful
barrel suit
is different,
the fermented heart,
your PX brightens the day,
nothing is left then,
only my Dulas and my Ravioli de Morcilla (blood sausage Ravioli)
paddling in your Cashew Ajoblanco
That they are my only poetry!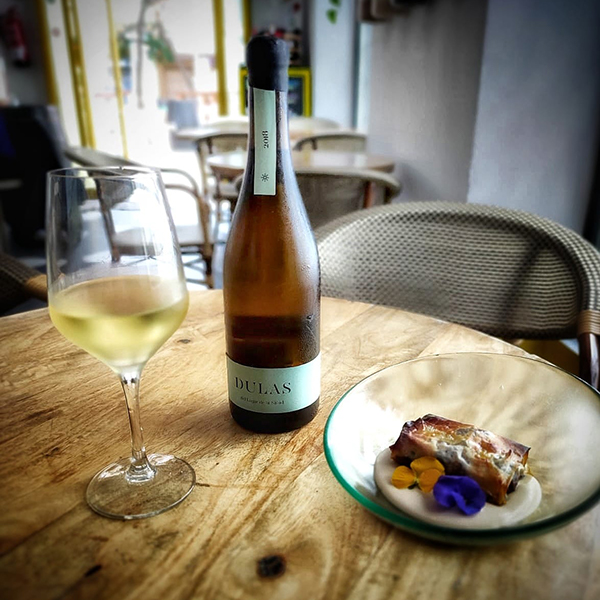 Taberna del Alabardero
Zaragoza 20
41001 Sevilla
View in Google Maps
Reserve: 954 502 721
alabarderosevilla.es
Dulas Pedro Ximénez fermented in barrel & La Taberna Anchovies
White French oak. Citrus notes and tropical fruit, having a mouth with volume, fruit and a pastry finish. We accompanied it with anchovies, Payoyo cheese cream and tomato jam, prepared by chef Rafael Dorado. The citric acidity of this wine is a perfect accompaniment to the smoked anchovies and the fat of the cheese. But the sweet touch of the jam and the volume of the wine make the contrast of flavors amazing.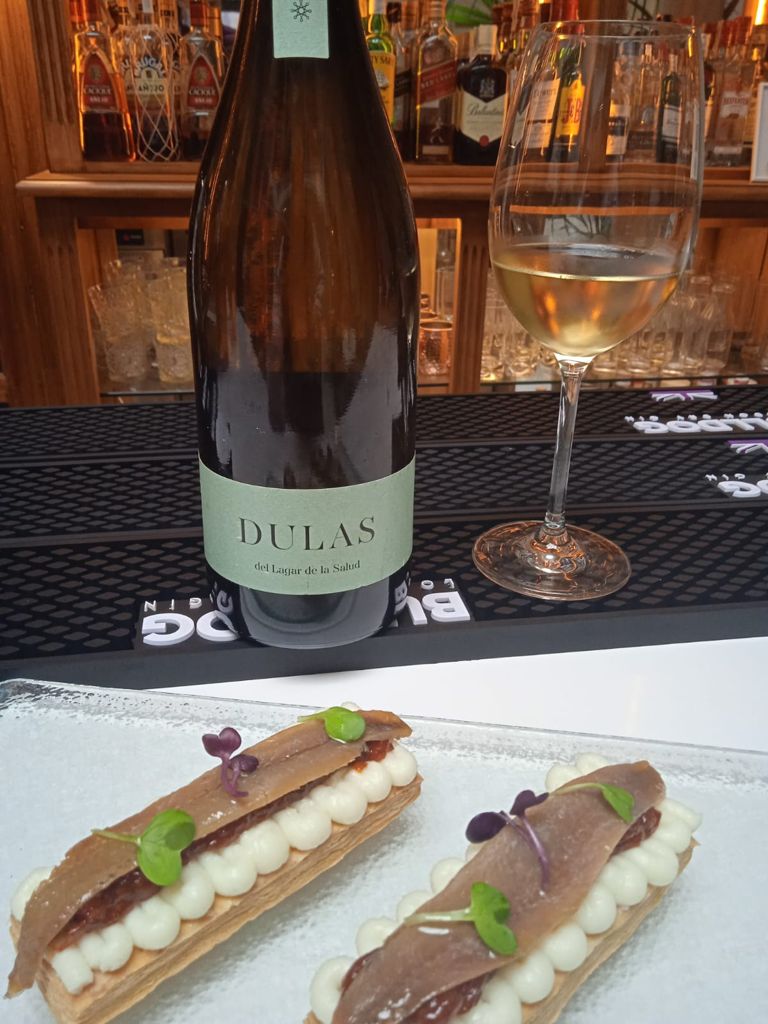 Amara
Calle Zaragoza 18
41001 Sevilla
View in Google Maps
Reservations: (+34) 620 164 872, 955 607 099
Restauranteamara.com
Dulas Tinto Francés & Foiegras plancha with pears in wine, hazelnuts and good herbs.
Delicate, strong, intense….an ideal marriage of flavors for rainy winter days…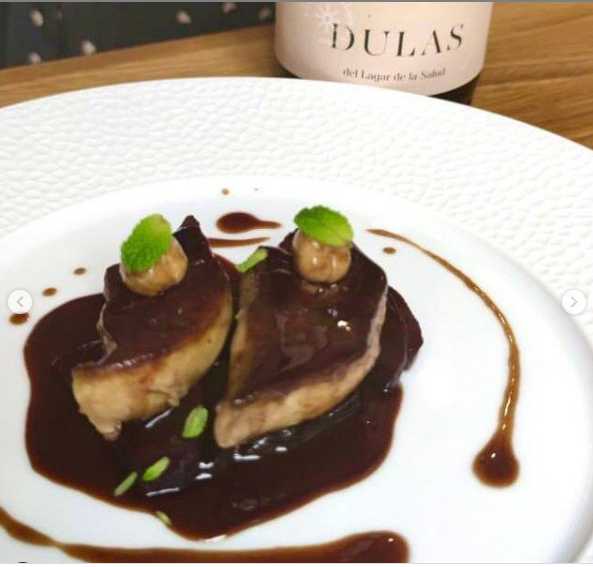 12 Tapas
Calle Párroco Antonio Pastor Portillo 2
41950 Castilleja de la Cuesta, Sevilla
View in Google Maps
restaurante12tapas.makro.rest
Reservations: +34 629 981 707
Dulas Pedro Ximénez fermented in barrels & Wok-fried squid with shitake cream
Harmony of similarities in the sea and on land. The squid, because of the way and the time in which it is caught, has different organoleptic qualities. Dulas is autochthonous and special, due to the time it is harvested and the way it is prepared. Authentic and unique, these two are one and the same.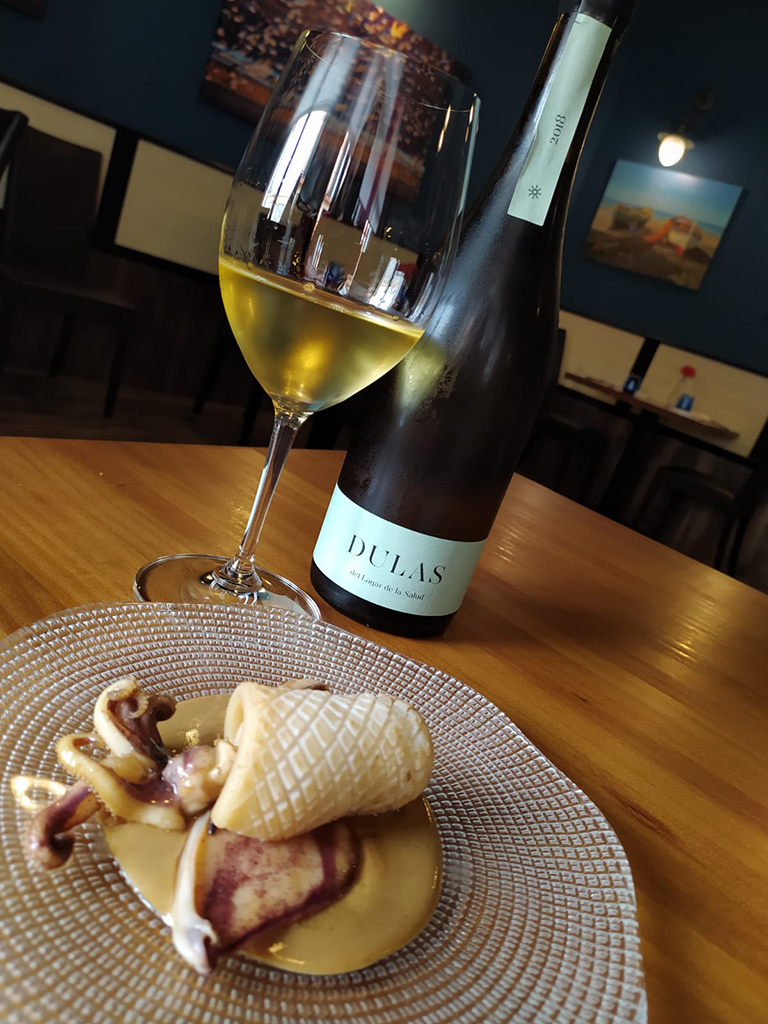 El Mercader de Triana
Calle Antillano Campos, 15
41010 Sevilla
View in Google Maps
609 56 20 42
Dulas Tinto Americano & Fabada andaluza. Judiones with chorizo sausage, blood sausage and Iberian papada.
Perfect pairing between spoon and glass.
Dulas cabernet sauvignon is a full-bodied wine aged for 10 months in American oak barrels, creating an enveloping skeleton and base for this spoon dish. An elegant wine that expresses itself with a lot of logic and that allows to pair the dish in a unique way… and it is also Andalusian!